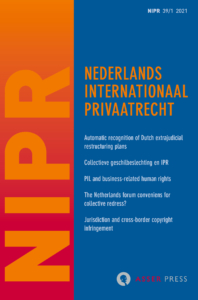 The latest issue (21/1) of the Dutch journal Nederlands Internationaal Privaatrecht has been published. It includes the following articles.
Vriesendorp, W. van Kesteren, E. Vilarin-Seivane & S. Hinse, Automatic recognition of the Dutch undisclosed WHOA procedure in the European Union / p. 3-17
On 1 January 2021, the Act on Court Confirmation of Extrajudicial Restructuring Plans ('WHOA') was introduced into the Dutch legal framework. It allows for extrajudicial debt restructuring outside of insolvency proceedings, a novelty in the Netherlands. If certain requirements – mostly relating to due process and voting – are met, court confirmation of the restructuring plan can be requested. A court-confirmed restructuring plan is binding on all creditors and shareholders whose claims are part of that plan, regardless of their approval of the plan. WHOA is available in two distinct versions: one public and the other undisclosed. This article assesses on what basis a Dutch court may assume jurisdiction and if there is a basis for automatic recognition within the EU of a court order handed down in either a public or an undisclosed WHOA procedure. Read more...
https://conflictoflaws.net/News/2020/08/CoL_Banner-1.png
0
0
Xandra Kramer
https://conflictoflaws.net/News/2020/08/CoL_Banner-1.png
Xandra Kramer
2021-05-05 21:27:12
2021-05-05 21:27:12
Latest issue Dutch PIL journal (NIPR)