Judicial mediation is a unique dispute resolution mechanism in Chinese civil procedure. Wherever civil disputes are brought to the court, the judge should, based on parties' consent, mediate before adjudicating. Judicial mediation, therefore, is an 'official' mediation process led by the judge and if successful, the judge will make a document to record the plea, the fact and the settlement agreement. This document is called 'judicial mediation settlement' in this note.
On 7 June 2022, the Supreme Court of New South Wales recognized and enforced two Chinese judicial mediation settlement issued by the People's Court of Qingdao, Shandong Province China in Bank of China Limited v Chen. It raises an interesting question: is Chinese judicial mediation settlement recognisable as a foreign 'judgment' and enforceable in the other country? Two commentors provide different views on this matter. Read more...
https://conflictoflaws.net/News/2020/08/CoL_Banner-1.png
0
0
Sophia Tang
https://conflictoflaws.net/News/2020/08/CoL_Banner-1.png
Sophia Tang
2022-07-15 03:59:38
2022-07-15 03:59:38
Is Chinese Judicial Mediation Settlement 'Judgment' in Private International Law?
On 23 June 2022, the Lisbon Guidelines on Privacy, drawn up by the ILA Committee on the Protection of Privacy in Private International and Procedural Law, were formally endorsed by the International Law Association at the 80th ILA Biennial Conference, hosted in Lisbon (Portugal).
The Committee was established in 2013 further to the proposal of Prof. Dr. Dres. h.c. Burkhard Hess (Director at the Max Planck Institute Luxembourg) to create a forum on the protection of privacy in the context of private international and procedural law. Prof. Dr. Dres. h.c. Burkhard Hess chaired the Committee, and Prof. Dr. Jan von Hein (Albert-Ludwigs-Universität Freiburg) and Dr. Cristina M. Mariottini (Max Planck Institute Luxembourg) were the co-rapporteurs. Read more...
https://conflictoflaws.net/News/2020/08/CoL_Banner-1.png
0
0
Cristina Mariottini
https://conflictoflaws.net/News/2020/08/CoL_Banner-1.png
Cristina Mariottini
2022-07-06 15:41:45
2022-07-06 15:41:45
Adoption of the 'Lisbon Guidelines on Privacy' at the 80th Biennial Conference of the International Law Association
Written by Alyssa S. King and Pamela K. Bookman
International commercial courts—domestic courts, chambers, and divisions dedicated to commercial or international commercial disputes such as the Netherlands Commercial Court and the never-implemented Brussels International Business Court—are the topic of much discussion these days. The NCC is a division of the Dutch courts with Dutch judges. The BIBC proposal, however, envisioned judges who were mostly "part-timers" who may include specialists from outside Belgium. While the BIBC experiment did not pass Parliament, other commercial courts around the world have proliferated, and some hire judges from outside their jurisdictions.
In a new paper forthcoming in the American Journal of International Law, we set out to determine how many members of the Standing International Forum of Commercial Courts hire such "traveling judges," who they are, why they are hired, and why they serve.
Based on new empirical data and interviews with over 25 judges and court personnel, we find that traveling judges are found on commercially focused courts around the world. We identified nine jurisdictions with such courts, in Hong Kong, Singapore, Dubai, Abu Dhabi, Qatar, Kazakhstan, and the Caribbean (the Cayman Islands and the BVI), and The Gambia. These courts are designed to accommodate foreign litigants and transnational litigation—and inevitably, conflicts of laws.
One may assume that these judges largely resemble arbitrators (as was likely intended for the BIBC). But whereas studies  show arbitrators are mostly white, male lawyers from "developed" countries that may be based in the common law or civil law tradition, traveling judges are even more likely to be white and male, vastly more likely to have prior judicial experience and common-law legal training, and are overwhelmingly from the UK and its former dominion colonies. In the subset of commercially focused courts in our study, just over half of the traveling judges were from England and Wales specifically. Nearly two-thirds had at least one law degree from a UK university.
Below is a chart showing the home jurisdiction of the judges in our study.  This includes traveling judges sitting on the BVI commercial division, Hong Kong Court of Final Appeal, Dubai International Financial Centre (DIFC) Courts, Qatar International Court, Cayman Islands Financial Services Division, Singapore International Commercial Court, Abu Dhabi Global Market (ADGM) Courts, and Astana International Financial Centre (AIFC) Courts as of June 2021.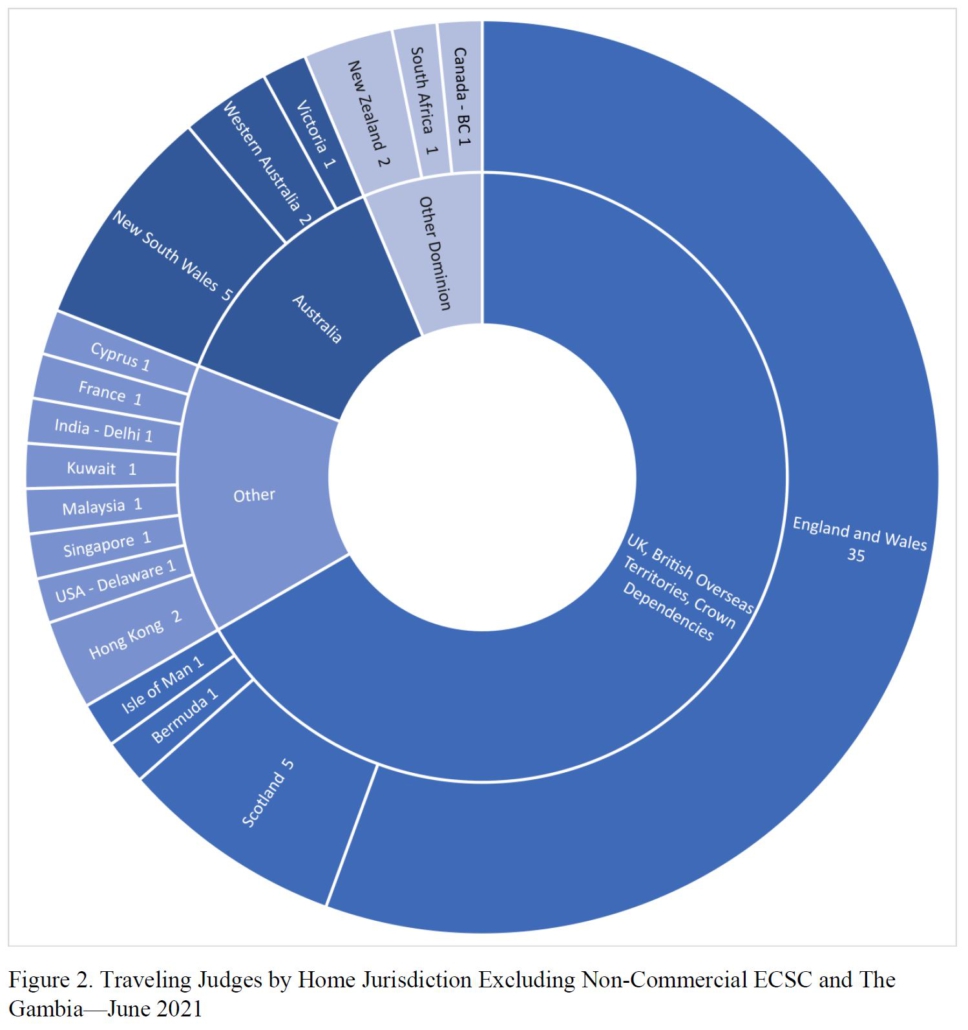 A look at traveling judges' backgrounds suggests that traveling judges might be a phenomenon limited to common-law countries, but only half of hiring jurisdictions are in common law states. Almost all hiring jurisdictions, however, are common law jurisdictions. Moreover, almost all are or aspire to be market-dominant small jurisdictions (MDSJ). For example, the DIFC Courts are located in a common law jurisdiction within a non-common-law state that has been identified as a MDSJ. Read more...
https://conflictoflaws.net/News/2020/08/CoL_Banner-1.png
0
0
Pamela Bookman
https://conflictoflaws.net/News/2020/08/CoL_Banner-1.png
Pamela Bookman
2022-07-06 13:39:51
2022-07-06 13:39:51
Traveling Judges and International Commercial Courts
A comprehensive and detailed volume by Dr. Lenka Válková was just released providing a dedicated analysis of the private international law framework as it applies to jurisdiction agreements in the framework of the EU Regulations in family and succession matters.
The blurb reads: Read more...
https://conflictoflaws.net/News/2020/08/CoL_Banner-1.png
0
0
Cristina Mariottini
https://conflictoflaws.net/News/2020/08/CoL_Banner-1.png
Cristina Mariottini
2022-08-10 07:12:38
2022-08-10 07:12:38
Just released: Lenka Válková on 'Choice-of-Court Agreements under the EU Regulations in Family and Succession Matters'
Even after Brussels IIb's coming into force (that we reported on last week), the Court of Justice of the EU issued its judgment in case C-501/20. The case remains relevant, also under the new Regulation. The Court had the opportunity to not only add to its case law on habitual residence, but also to clarify three other matters: first, the Regulation's and the Maintenance Regulation's relation to the Vienna Convention on the Law of Treaties, specifically with regard to diplomatic immunity; second, the Brussels IIa's relation to domestic bases of jurisdiction; and third (and related to the second point), the forum necessitatis.
The case concerned the divorce and related disputes between a Spanish national and a Portuguese national. The couple had two children, who had dual Spanish-Portuguese nationality. The family lived first in Guinea-Bissau and later in Togo. The parents were posted at these places as EU delegates of the European Commission. They separated factually while still living in Togo. The mother then brought divorce proceedings, including the issues of parental responsibility and maintenance, in Spain. This court had to decide on its jurisdiction, which raised various issues. Read more...
https://conflictoflaws.net/News/2020/08/CoL_Banner-1.png
0
0
Thalia Kruger
https://conflictoflaws.net/News/2020/08/CoL_Banner-1.png
Thalia Kruger
2022-08-10 06:46:05
2022-08-10 06:46:05
Brussels IIa, habitual residence and forum necessitatis
Greece still forms part of the EU Member States group not recognizing same-sex marriage. Same-sex couples do enjoy however some rights. The latest challenging issue concerned custody rights of a same-sex couple married abroad. The Thessaloniki Court of Appeal reversed the first instance ruling, and recognized an English custody order [Thessaloniki CoA, decision published on January 24, 2022, unreported]. Read more...
https://conflictoflaws.net/News/2020/08/CoL_Banner-1.png
0
0
Apostolos Anthimos
https://conflictoflaws.net/News/2020/08/CoL_Banner-1.png
Apostolos Anthimos
2022-08-08 21:54:47
2022-08-08 21:54:47
Greek court recognizes UK custody order to the non-biological parent in the context of a married same-sex couple