Julia Hörnle, Professor of Internet Law, CCLS, Queen Mary University of London[1]
It is now well known that internet users are widely tracked and profiled by a range of actors and the advancements in data science mean that such tracking and profiling is increasingly commercially profitable[2]. This raises difficult questions about how to balance the value of data with individual privacy. But since there is no point in having privacy (or data protection) rights if no redress can be found to vindicate them, it is even more important to investigate how internet users can obtain justice, if their privacy has been infringed. Given the power of Big Tech Companies, their enormous financial resources, cross-jurisdictional reach and their global impact on users' privacy, there are two main litigation challenges for successfully bringing a privacy claim against Big Tech. One is the jurisdictional challenge of finding a competent court in the same jurisdiction as the individual users.[3] Secondly, the challenge is how to finance mass claims, involving millions of affected users. In privacy claims it is likely that there is significant user detriment, potentially with long-term and latent consequences, which are difficult to measure. This constellation provides a strong argument for facilitating collective redress, as otherwise individual users may not be able to obtain justice for privacy infringements before the courts. In privacy infringement claims these two challenges are intertwined and present a double-whammy for successful redress. Courts in a number of recent cases had to grapple with questions of jurisdiction in consumer collective redress cases in the face of existing provision on consumer jurisdiction and collective redress, which have not (yet) been fully adapted to deal with the privacy challenges stemming from Big Tech in the 21st century.
In Case C-498/16 Max Schrems v Facebook Ireland[4] the Court of Justice of the EU in 2018 denied the privilege of EU law for consumers to sue in their local court[5] to a representative (ie Max Schrems) in a representative privacy litigation against Facebook under Austrian law. By contrast, courts in California and Canada have found a contractual jurisdiction and applicable law clause invalid as a matter of public policy in order to allow a class action privacy claim to proceed against Facebook.[6] In England, the dual challenge of jurisdiction and collective actions in a mass privacy infringement claim has presented itself before the English Courts, first in Vidal-Hall v Google before the Court of Appeal in 2015[7] and in the Supreme Court judgment of Google v Lloyd in November 2021[8]. Both cases concerned preliminary proceedings on the question of whether the English courts had jurisdiction to hear the action, ie whether the claimant was able to serve Google with proceedings in the USA and have illustrated the limitations of English law for the feasibility of bringing a collective action in mass-privacy infringement claims. Read more...
https://conflictoflaws.net/News/2020/08/CoL_Banner-1.png
0
0
Sophia Tang
https://conflictoflaws.net/News/2020/08/CoL_Banner-1.png
Sophia Tang
2022-01-11 06:52:26
2022-01-11 06:52:26
Has the Battle Just Begun for Collective Action against Big Tech Companies?
After the Coman judgment of 2018, the Grand Chamber of the Court of Justice of the European Union (CJEU) has again rendered a judgment in the field of free movement of citizens that is of importance for private international law. Like in Coman, the judgment in V.M.A. of 14 December 2021 concerned a non-traditional family of which the members sought to make use of their right to free movement in the EU under the Treaty on the Functioning of the European Union (TFEU) and Directive 2004/38. The  Charter of Fundamental Rights of the EU (Charter) was also pertinent, particularly its Article 7 on respect for private and family life, Article 9 on the right to marry and the right to found a family,  Article 24 on the rights of the child, and Article 45 on freedom of movement and of residence.
While Coman concerned the definition of "spouse" under Article 2 of the Directive, in V.M.A. the CJEU addressed the definition of  "direct descendants" in the same provision.
Two women, V.M.A., a Bulgarian national, and K.D.K., a national of the United Kingdom, were married and lived in Spain. A daughter, S.D.K.A., was born in Spain. Her Spanish birth certificate indicated V.M.A. as "mother A" and K.D.K. as "mother". V.M.A. applied to the Sofia municipality for a birth certificate for S.D.K.A. in order to obtain a Bulgarian identity document for her. She submitted a legalised and certified translation into Bulgarian of the extract from the civil register of Barcelona. Read more...
https://conflictoflaws.net/News/2020/08/CoL_Banner-1.png
0
0
Thalia Kruger
https://conflictoflaws.net/News/2020/08/CoL_Banner-1.png
Thalia Kruger
2021-12-18 16:09:10
2021-12-18 16:19:51
Court of Justice of the EU on the recognition of parentage
Guest post by Willem Theus, PhD Researcher (KULeuven, cotutelle with UCLouvain)
The history of private international law (or 'conflict of laws') is incomplete. Private international law textbooks have always referred to the essentials of the history of our discipline.[1] However, these essentials are often solely based on the history of conflict of laws in the West and on the works of western authors such as Huber, Von Savigny and Story. It is undoubtedly true that these authors played an important role and that the  "modern" conflict of laws finds it origin in 19thcentury Europe, when the split between private and public international law occurred.[2] This is however only one part of history.
Conflict of laws systems have been around much longer and are definitely not uniquely western. They were already present in the very first civilizations, with some rules of that ancient history still resembling our present-day rules.[3]Conflict of laws is "the body of law that aims to resolve claims involving foreign elements".[4] A state or international border is therefore not required to have a conflict of laws system,[5] only different jurisdictions and laws (i.e. legal pluralism[6]) are. A distinction could therefore be made between "external" (i.e. crossing an international State border) conflict of laws or private international law and "internal" conflict of laws (i.e. within one State).[7] Both the historical research and the contemporary study of our field should arguably reflect much more on precolonial and/or non-western conflict of laws systems and on the unique linkage between the national (or "internal") and international (or "external") spheres. This is especially so given that "external" conflict of laws rules seem to sometimes guide "internal" conflict of laws cases.[8] I offer one historical example to highlight the new perspectives that such a widening of scope could offer.
In a not so distant and colonial past, there were multiple "internationalized" or mixed courts in various regions and nations. The last such mixed court only closed its doors in 1980.[9] In general, mixed courts were local courts that employed a mixed (read mostly Western) bench, bar and legal system to deal with legal conflicts that had a mixed or "foreign" element, i.e. conflicts not exclusively related to one local or foreign resident population.[10] Those exclusively local or intra-foreigner  -of the same nationality-  legal conflicts were often dealt with by various local or consular courts. The mixed or "foreign" element was however often widely interpreted and therefore quickly kicked in, leading to overlapping jurisdictions in many instances and therefore to a conflict of laws system. Read more...
https://conflictoflaws.net/News/2020/08/CoL_Banner-1.png
0
0
Thalia Kruger
https://conflictoflaws.net/News/2020/08/CoL_Banner-1.png
Thalia Kruger
2021-12-15 16:00:42
2021-12-15 16:00:42
The Hidden Treasure Trove of Conflicts of Law: the Case Law of the Mixed Courts of the Colonial Era
The editors of the European Yearbook for International Economic Law (EYIEL) welcome abstracts from scholars and practitioners at all stages of their career for the focus section of the EYIEL 2022. This year's focus will be on the impact of climate change on international economic law.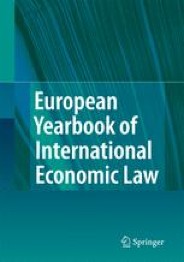 Abstracts may cover any topic relating to dispute settlement in the field of international economic law, though preference is given to topics focusing on the perspective from public and private international or EU law. We particularly welcome contributions addressing the following aspects: Read more...
Climate change in WTO and international trade law
Impact of investment protection treaties on energy transformation
Reform of the Energy Charter Treaty
https://conflictoflaws.net/News/2020/08/CoL_Banner-1.png
0
0
Giesela Ruehl
https://conflictoflaws.net/News/2020/08/CoL_Banner-1.png
Giesela Ruehl
2022-01-21 10:52:24
2022-01-21 10:52:24
Call for Abstracts: Climate Change and International Economic Law
https://conflictoflaws.net/News/2020/08/CoL_Banner-1.png
0
0
Giesela Ruehl
https://conflictoflaws.net/News/2020/08/CoL_Banner-1.png
Giesela Ruehl
2022-01-21 10:44:36
2022-01-21 10:45:37
RabelsZ: New issue alert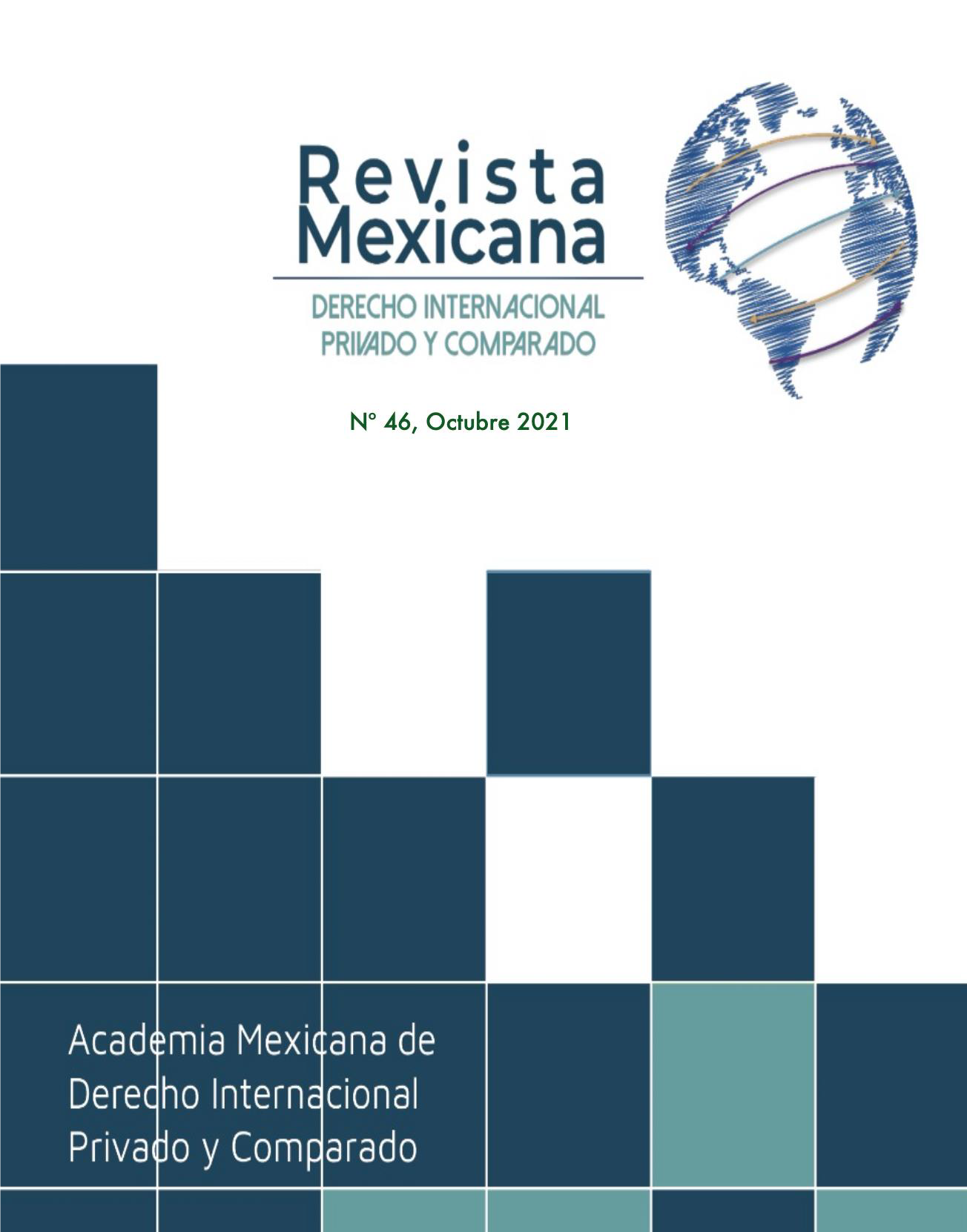 The Mexican Academy of Private International and Comparative Law (AMEDIP) has published issue No 46 of the Revista Mexicana de Derecho Internacional Privado y Comparado (Mexican Journal of Private International and Comparative Law).  It is available here.
Click here to access the Journal page.
A call for papers has been issued for the next number, whose theme will be "Matrimonio poliamoroso en el Derecho internacional privado". Contributions must be sent before 25 February 2022 to the following email address: < graham@jamesgraham.legal >. For more information, see the last page of the current issue.
Below is the table of contents of No 46:
ÍNDICE
LA VOZ DEL COMITÉ EDITORIAL
DOCTRINA
LA EVOLUCIÓN DEL DERECHO INTERNACIONAL PRIVADO EN NICARAGUA / Jürgen Samtleben
BRIEF REMARKS ON THE INTERPRETATION OF DOMESTIC CRIMINAL LAW IN INVESTMENT ARBITRATION / Fausto Pocar      Read more...
https://conflictoflaws.net/News/2020/08/CoL_Banner-1.png
0
0
Mayela Celis
https://conflictoflaws.net/News/2020/08/CoL_Banner-1.png
Mayela Celis
2022-01-21 10:04:16
2022-01-21 10:04:16
Mexican Journal of Private International and Comparative Law – issue No 46 is out