By Stephen G.A. Pitel, Western University
In common law Canada, it has long been established that a court will not recognize and enforce a foreign judgment concerning title to land in the forum.  The key case in support is Duke v Andler, [1932] SCR 734.
The ongoing application of that decision has now been called into question by the British Columbia Court of Appeal in Lanfer v Eilers, 2021 BCCA 241 (available here).  In the court below the judge relied on Duke and refused recognition and enforcement of a German decision that determined the ownership of land in British Columbia.  The Court of Appeal reversed and gave effect to the German decision.  This represents a significant change to Canadian law in this area. Read more...
https://conflictoflaws.net/News/2020/08/CoL_Banner-1.png
0
0
Stephen Pitel
https://conflictoflaws.net/News/2020/08/CoL_Banner-1.png
Stephen Pitel
2021-06-24 14:31:43
2021-06-24 14:31:43
Enforcement of Foreign Judgments about Forum Land
Carlos Santaló Goris, Researcher at the Max Planck Institute Luxembourg for International, European and Regulatory Procedural Law and Ph.D. candidate at the University of Luxembourg, offers an analysis of some aspects of a judgment rendered by the Paris Court of Appeals.
Regulation No 655/2014, establishing a European Account Preservation Order ("EAPO Regulation") introduced not only the first uniform provisional measure at the EU level but also the first European specific system to search for the debtors' bank accounts. The so-called information mechanism is, though, less accessible than the EAPO itself. According to Article 5 of the EAPO Regulation, creditors can apply for an EAPO ante demandam, during the procedure on the substance of the matter; or when they have already a title (a judgment, a court settlement, or an authentic document). However, only creditors with a title can submit a request for information. Furthermore, in case the title is not yet enforceable, creditors are subject to specific additional prerequisites.
In broad terms, the information mechanism operates following a traditional scheme of cross-border cooperation in civil matters within the EU. A court in a Member State sends a request for information to an information authority in the same or other Member State. The information authority then searches for the bank accounts and informs the court of origin about the outcome of that search. Read more...
https://conflictoflaws.net/News/2020/08/CoL_Banner-1.png
0
0
Cristina Mariottini
https://conflictoflaws.net/News/2020/08/CoL_Banner-1.png
Cristina Mariottini
2021-06-24 12:53:39
2021-06-24 12:53:39
The EAPO Regulation: An unexpected interpretative tool of the French civil procedural system
Xu Huang, Sophia Tang
Wuhan University Institute of International Law
1. Background
On 10 June 2021, China's Standing Committee of the National People's Congress (hereinafter "NPC") issued "Anti-Foreign Sanctions Law of the People's Republic of China" (hereinafter "CAFSL"), which entered into force on the date of the promulgation. This is a reaction in response to the current tension between China and some western countries, in particular, the US and the EU that have imposed a series of sanctions on Chinese officials and entities. For example, in August 2020, the Trump administration imposed sanctions on 11 individuals for undermining Hong Kong's autonomy and restricting the freedom of expression or assembly of the citizens of Hong Kong. In June 2021, President Biden issued Executive Order 14032 to amend the ban on US persons purchasing securities of certain Chinese companies. In March 2021, the EU imposed unilateral sanctions on relevant Chinese individuals and entity, based on the human rights issues in Xinjiang. China has responded by imposing counter sanctions, which were issued by the Ministry of Foreign Affairs as administrative orders. The Anti-Foreign Sanctions Law provides the legal basis for China's further action and counter measures. This law was enacted after only two readings rather than the normal three demonstrating China's urgent need to defend itself against a growing risk of foreign hostile measures. Read more...
https://conflictoflaws.net/News/2020/08/CoL_Banner-1.png
0
0
Sophia Tang
https://conflictoflaws.net/News/2020/08/CoL_Banner-1.png
Sophia Tang
2021-06-21 09:18:46
2021-07-06 10:07:53
China Enacts the Anti-Foreign Sanctions Law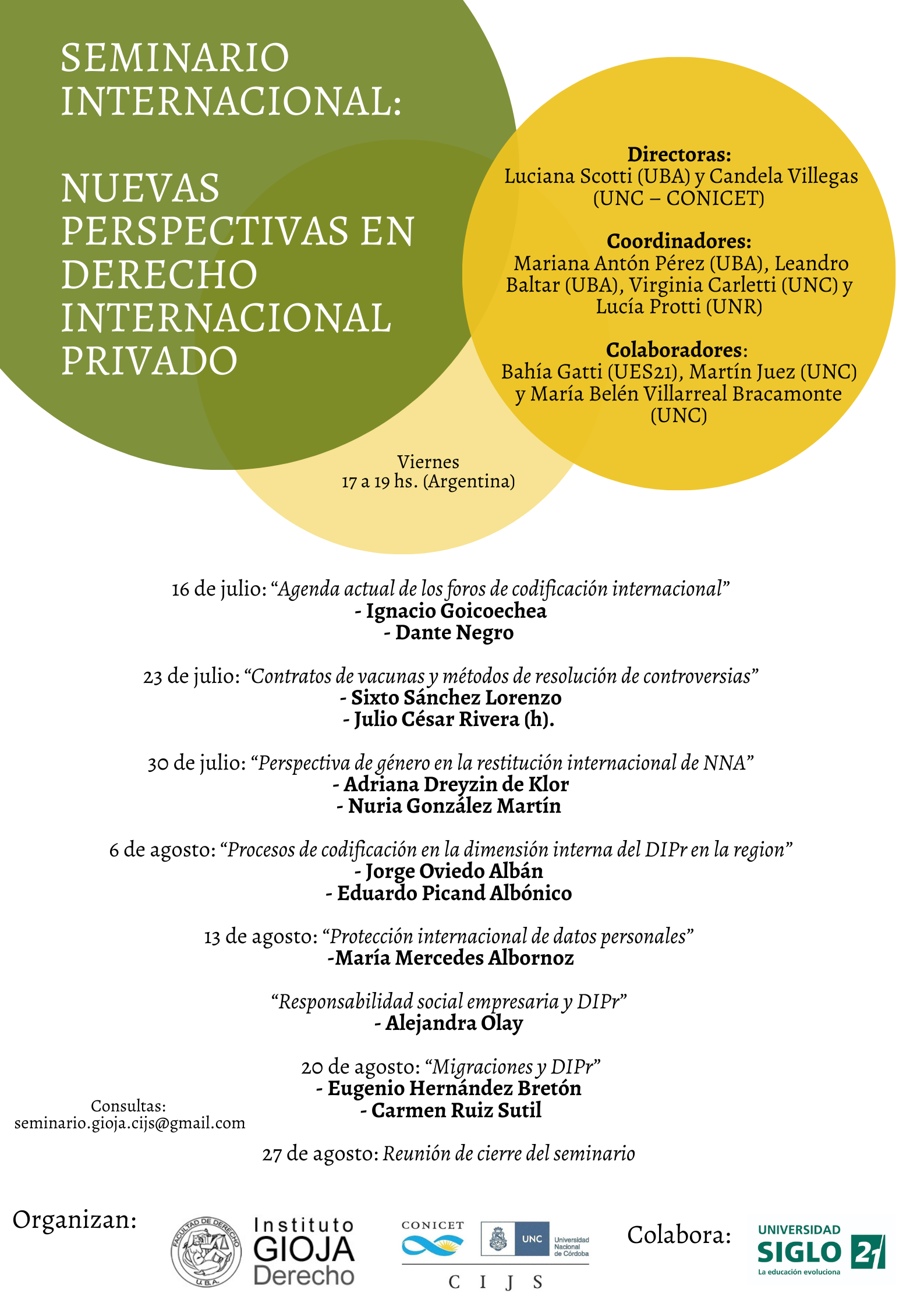 The series of seminars are organised by the Ambrosio L. Gioja Research Institute of the University of Buenos Aires, the Center for Legal and Social Research of the National University of Córdoba (Argentina) and the National Council for Scientific and Technical Research (CONICET). The seminars will take place each Friday from 16 July to 27 August 2021 at 17:00 (Buenos Aires time) / 22:00 CEST time (Central European Summer Time).
The topics that will be discussed are very diverse, ranging from vaccination contracts to migration and Private International Law. The series of seminars will end on 27 August 2021 with a summary of the findings, coordinated by Candela Villegas and Luciana Scotti.
I am proud to announce that several AMEDIP members will be speaking at these seminars. Read more...
https://conflictoflaws.net/News/2020/08/CoL_Banner-1.png
0
0
Mayela Celis
https://conflictoflaws.net/News/2020/08/CoL_Banner-1.png
Mayela Celis
2021-07-19 08:04:10
2021-07-19 08:04:10
The University of Buenos Aires and the National University of Córdoba (Argentina) are organising a series of seminars entitled "New Perspectives in Private International Law" this European summer / Argentinean winter – in Spanish
Since 2016, the European General Data Protection Regulation has been one of the most popular topics of discussion, academic and otherwise. While the PIL discussion has mostly focused on the unilateral conflicts rule in Article 3 of the Regulation, which defines its "external" scope of application, some scholars – like Martina Mantovani on this blog – have pointed out that despite providing a unified regime that applies across the Union, the Regulation's repeated deference of specific questions to the laws of the Member States still requires a certain degree of "internal" coordination. On this aspect of the Regulation, Merlin Gömann has just published an impressive volume of over 800 pages (in German), offering what easily constitutes the most comprehensive treatment of the problem to date.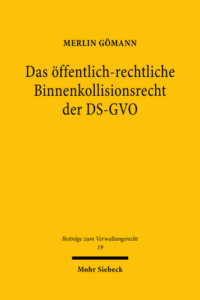 In essence, Gömann tries to work out how (and by whom) this coordination can (and must) be achieved according to primary EU law. He comes to the conclusion that the respective scopes of the national laws implementing the Regulation cannot be determined by unilateral conflict rules of the Member States but need to be derived from the Regulation itself. Accordingly, the conflict rules contained in many national laws implementing the Regulation are in violation of primary EU law (also explained in some more detail here). Read more...
https://conflictoflaws.net/News/2020/08/CoL_Banner-1.png
0
0
Tobias Lutzi
https://conflictoflaws.net/News/2020/08/CoL_Banner-1.png
Tobias Lutzi
2021-07-17 09:10:00
2021-07-17 02:21:28
Out Now: Gömann on the Internal Conflict-of-Laws Regime of the GDPR
According to a press release, the EU Commission has proposed for the EU to join the 2019 Hague Judgments Convention. So far, the Convention has been signed, but not yet ratified, by three states (Israel, Ukraine, Uruguay).
The full statement reads as follows:
International Justice: The Commission proposes for the EU to join the Hague Judgments Convention Read more...
https://conflictoflaws.net/News/2020/08/CoL_Banner-1.png
0
0
Tobias Lutzi
https://conflictoflaws.net/News/2020/08/CoL_Banner-1.png
Tobias Lutzi
2021-07-16 11:49:48
2021-07-16 11:49:48
Commission recommends for EU to join Hague Judgments Convention