Written by Alyssa S. King and Pamela K. Bookman
International commercial courts—domestic courts, chambers, and divisions dedicated to commercial or international commercial disputes such as the Netherlands Commercial Court and the never-implemented Brussels International Business Court—are the topic of much discussion these days. The NCC is a division of the Dutch courts with Dutch judges. The BIBC proposal, however, envisioned judges who were mostly "part-timers" who may include specialists from outside Belgium. While the BIBC experiment did not pass Parliament, other commercial courts around the world have proliferated, and some hire judges from outside their jurisdictions.
In a new paper forthcoming in the American Journal of International Law, we set out to determine how many members of the Standing International Forum of Commercial Courts hire such "traveling judges," who they are, why they are hired, and why they serve.
Based on new empirical data and interviews with over 25 judges and court personnel, we find that traveling judges are found on commercially focused courts around the world. We identified nine jurisdictions with such courts, in Hong Kong, Singapore, Dubai, Abu Dhabi, Qatar, Kazakhstan, and the Caribbean (the Cayman Islands and the BVI), and The Gambia. These courts are designed to accommodate foreign litigants and transnational litigation—and inevitably, conflicts of laws.
One may assume that these judges largely resemble arbitrators (as was likely intended for the BIBC). But whereas studies  show arbitrators are mostly white, male lawyers from "developed" countries that may be based in the common law or civil law tradition, traveling judges are even more likely to be white and male, vastly more likely to have prior judicial experience and common-law legal training, and are overwhelmingly from the UK and its former dominion colonies. In the subset of commercially focused courts in our study, just over half of the traveling judges were from England and Wales specifically. Nearly two-thirds had at least one law degree from a UK university.
Below is a chart showing the home jurisdiction of the judges in our study.  This includes traveling judges sitting on the BVI commercial division, Hong Kong Court of Final Appeal, Dubai International Financial Centre (DIFC) Courts, Qatar International Court, Cayman Islands Financial Services Division, Singapore International Commercial Court, Abu Dhabi Global Market (ADGM) Courts, and Astana International Financial Centre (AIFC) Courts as of June 2021.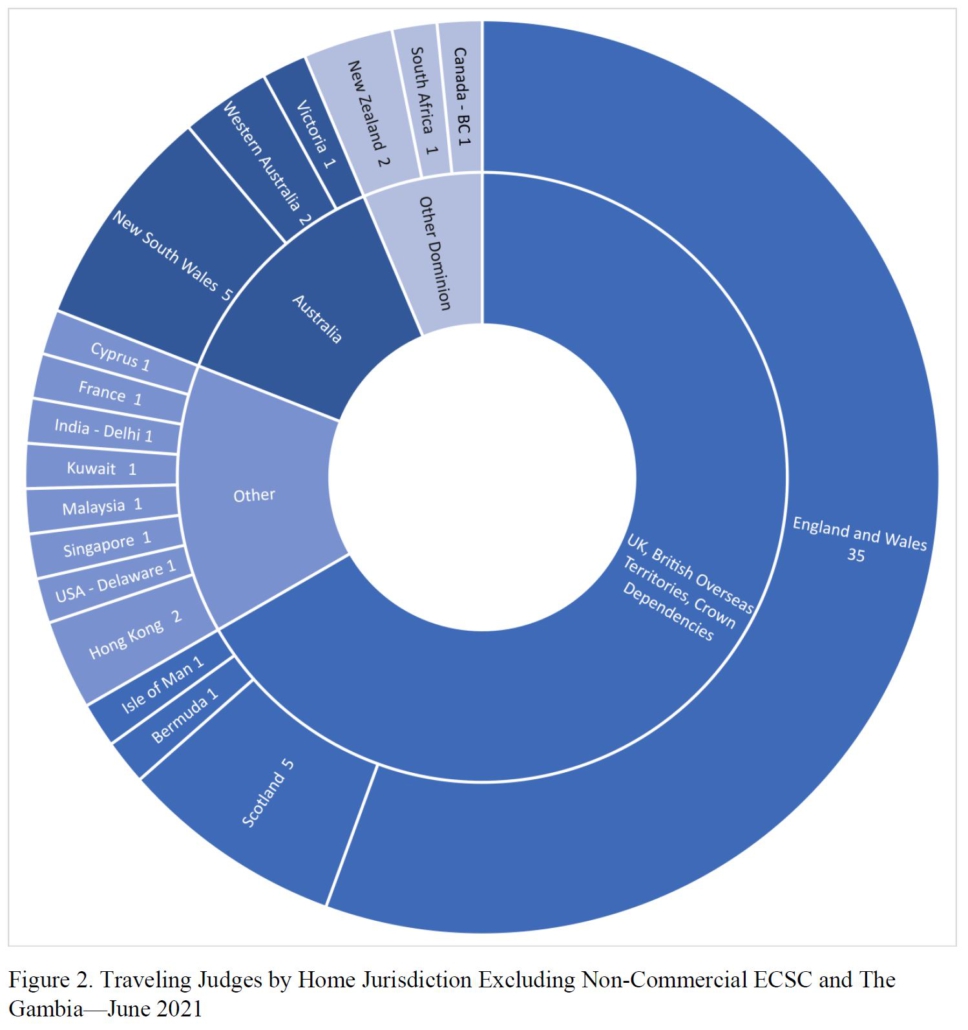 A look at traveling judges' backgrounds suggests that traveling judges might be a phenomenon limited to common-law countries, but only half of hiring jurisdictions are in common law states. Almost all hiring jurisdictions, however, are common law jurisdictions. Moreover, almost all are or aspire to be market-dominant small jurisdictions (MDSJ). For example, the DIFC Courts are located in a common law jurisdiction within a non-common-law state that has been identified as a MDSJ. Read more...
https://conflictoflaws.net/News/2020/08/CoL_Banner-1.png
0
0
Pamela Bookman
https://conflictoflaws.net/News/2020/08/CoL_Banner-1.png
Pamela Bookman
2022-07-06 13:39:51
2022-07-06 13:39:51
Traveling Judges and International Commercial Courts