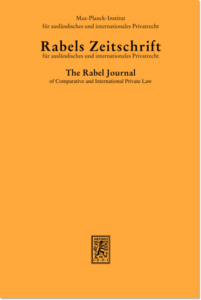 In May, the Hamburg Max Planck Institute organized an online panel to discuss implications from the German Federal Constitutional Court Decision on the Act to Combat Child Marriages rendered just prior. The panelist were Henning Radtke (Judge at the Constitutional Court),  Dagmar Coester-Waltjen (Professor emeritus for PIL at University of Göttingen), Susanne Gössl (Professor for PIL at University of Bonn) and Lars Viellechner (Professor for Constitutional Law at University of Bremen). Their contributions are now available, together with a short introduction, in open access via the "online first" section of Rabels Zeitschrift.
Ralf Michaels, Einleitung zum Symposium
Henning Radtke, Zu den Maßstäben der verfassungsrechtlichen Beurteilung von Regelungen des deutschen Internationalen Privatrechts
Susanne Lilian Gössl, Grundrechte und IPR: Vom beidseitigem Desinteresse zu höflicher Aufmerksamkeit – und zu angeregtem Austausch?
Lars Viellechner, Die Anwendbarkeit der Grundrechte im Internationalen Privatrecht: Zur Methodik der Entscheidung des Bundesverfassungsgerichts über die Kinderehe
Dagmar Coester-Waltjen, Die "Kinderehen"-Entscheidung des Bundesverfassungsgerichts: Welche Schlussfolgerungen ergeben sich für das internationale Eheschließungsrecht?
https://conflictoflaws.net/News/2020/08/CoL_Banner-1.png
0
0
Ralf Michaels
https://conflictoflaws.net/News/2020/08/CoL_Banner-1.png
Ralf Michaels
2023-11-16 12:17:37
2023-11-16 13:39:41
Fundamental Rights and PIL after the German Federal Constitutional Court Decision on the Act to Combat Child Marriages