"Law in the Age of Modern Technologies", 10 February 2023, University of Milan (hybrid)
The University of Milan, on behalf of the DIGinLaw consortium (consisting of partners: the Josip Juraj Strossmayer University of Osijek, the University of Aberdeen, and the University of Zagreb – University Computing Centre (SRCE)), is organising an international conference on Law in the Age of Modern Technologies, taking place in Milan on 10 February 2023.
Digitalization strongly affects society, science, and the transfer of knowledge. While taking advantage of modern technologies, the DIGinLaw Project aims to raise awareness of digital demands in higher education and research in law and fosters the creation of digital literacy and digital competence that is needed in the law labour market. The Project aims to create an open and inclusive society of legal knowledge and to open access to the scientific areas dealing with the effects of digitalization on law and legal education.
The Conference is the culmination of scientific research on the digitalization of legal education and the digitalization of law. It provides a venue for the presentation and discussion of scientific research focusing on such and related themes. The full program of the event is available here.
The conference will be held in a hybrid format. Participation is free of charge, but registration is required.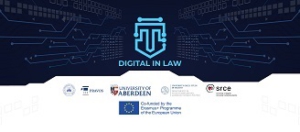 https://conflictoflaws.net/News/2020/08/CoL_Banner-1.png
0
0
Cristina Mariottini
https://conflictoflaws.net/News/2020/08/CoL_Banner-1.png
Cristina Mariottini
2023-01-23 16:08:16
2023-01-23 16:08:16
"Law in the Age of Modern Technologies", 10 February 2023, University of Milan (hybrid)