Posted by Marlene Wethmar-Lemmer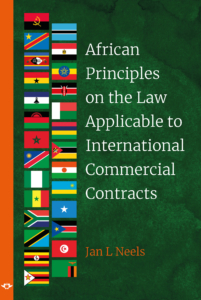 This booklet contains the first draft of the envisaged African Principles on the Law Applicable to International Commercial Contracts. The proposal could be used by national legislators on the continent and African economic integration organisations, particularly the African Union, in, respectively, domestic legislation and regional or supranational laws of a soft or binding nature. The existence of a reliable transnational legal infrastructure in respect of international commercial law, including commercial private international law, is a prerequisite for investor confidence, inclusive economic growth, sustainable development, and the ultimate alleviation of poverty on the African continent. The instrument may contribute to sustainable growth on a long-term basis. The regulation of private international law of contract is essential to the further development of the African Continental Free Trade Area.
Jan L Neels is professor of private international law and director of the Research Centre for Private International Law in Emerging Countries at the University of Johannesburg.
ISBNs
978-1-7764474-0-4 (Paperback)
978-1-7764474-1-1 (PDF)
978-1-7764474-2-8 (EPUB)
978-1-7764474-3-5 (XML)
DOI:  https://doi.org/10.36615/9781776447411
PRICE:  R125 (print), OA (ebook)
https://conflictoflaws.net/News/2020/08/CoL_Banner-1.png
0
0
Marlene Wethmar-Lemmer
https://conflictoflaws.net/News/2020/08/CoL_Banner-1.png
Marlene Wethmar-Lemmer
2023-11-20 09:47:25
2023-11-20 09:47:25
Book on the African Principles on the Law Applicable to International Commercial Contracts now available