Out Now: Alexander DJ Critchley, The Application of Foreign Law in the British and German Courts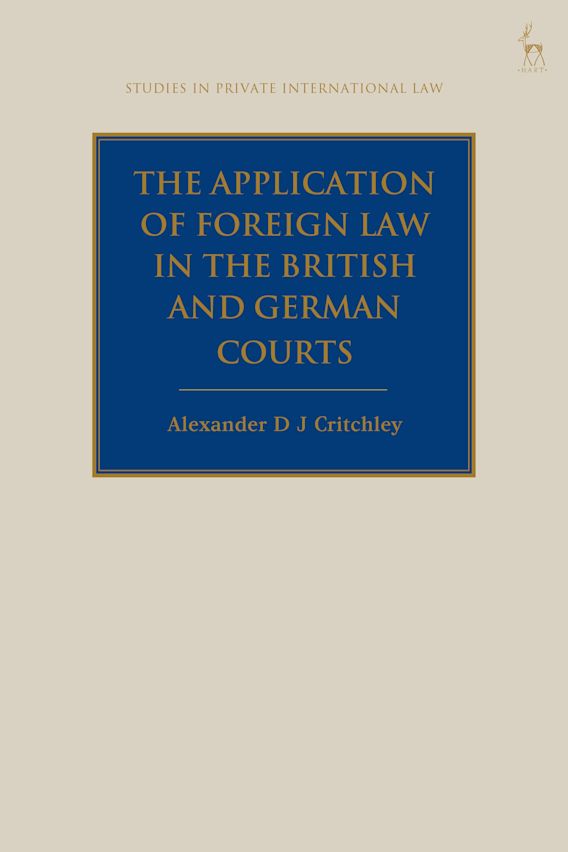 Alexander DJ Critchley has added an enriching installment to Hart's renowned Studies in Private International Law Series entitled "The Application of Foreign Law in the British and German Courts".
The author has extensive experience as solicitor in Scots law with a specialisation in family law. His book is the publication of a doctoral thesis completed with distinction at the university of Tübingen (Germany). The blurb reads as follows:
This book explores the application of foreign law in civil proceedings in the British and German courts. It focuses on how domestic procedural law impacts on the application of choice of law rules in domestic courts. It engages with questions involved in the investigation and determination of foreign law as they affect the law of England and Wales, Scotland, and Germany. Although the relevant jurisdictions are the focus, the comparative analysis extends to explore examples from other jurisdictions, including relevant international and European conventions. Ambitious in scope, it expertly tracks the development of the law and looks at possible future reforms.
Please check out Hart's banner at the top of this page for special discounts for CoL readers.
https://conflictoflaws.net/News/2020/08/CoL_Banner-1.png
0
0
Matthias Weller
https://conflictoflaws.net/News/2020/08/CoL_Banner-1.png
Matthias Weller
2023-03-09 16:44:46
2023-03-09 16:44:46
Out Now: Alexander DJ Critchley, The Application of Foreign Law in the British and German Courts