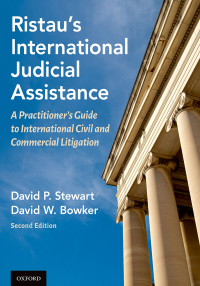 David P. Stewart and David W. Bowker, Ristau's International Judicial Assistance – A Practitioner's Guide to International Civil and Commercial Litigation, Oxford University Press (second edition, 2021).
This welcome and comprehensive addition to the area of cross-border dispute resolution and civil procedure in civil and commercial matters was just published and marks the beginning of the New Year under the very best auspices!
The blurb on the publisher's website reads:
'Legal practitioners of today are dealing with cross-border disputes in civil and commercial matters in an increasingly complex transnational legal environment. This edition of Bruno Ristau's multi-volume work International Judicial Assistance brings these complexities to the fore. The revised and updated material offers background, explanations, and practical advice on how to deal with the most important challenges and recent developments in the field of transnational litigation, including issues related to the choice of forum, choice of law, service of process, proof of foreign law, discovery of evidence, and enforcement of judgments.
Written by David P. Stewart and David W. Bowker, internationally renowned experts in public and private international law, this book offers insightful and comprehensive information on cross-border litigation by addressing issues in sequence as they are likely to be encountered in practice. A major focus is the mechanisms for international judicial cooperation and assistance, in particular those provided by regional and international arrangements such as the Hague Conventions on Service, Evidence and Apostilles, choice of court agreements, and the enforcement of judgments, as well as regional arrangements within the OAS and the EU. This book is a necessary addition for litigators in the U.S. and other common law jurisdictions who are involved in cross border disputes.'
https://conflictoflaws.net/News/2020/08/CoL_Banner-1.png
0
0
Cristina Mariottini
https://conflictoflaws.net/News/2020/08/CoL_Banner-1.png
Cristina Mariottini
2022-01-03 17:29:14
2022-01-03 17:29:14
Stewart and Bowker: Ristau's International Judicial Assistance – Second Edition