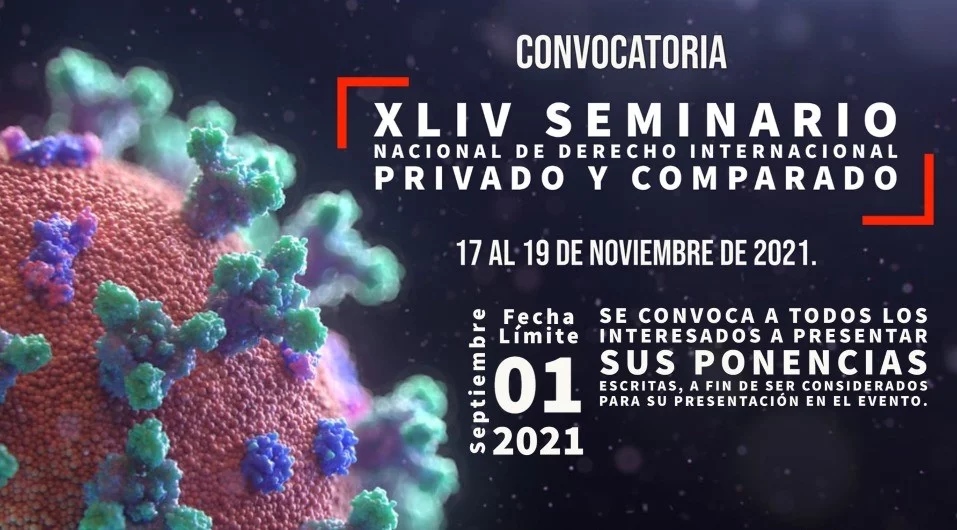 The Mexican Academy of Private International and Comparative Law (AMEDIP) will be holding its annual XLIV Seminar entitled "New perspectives for Private International Law in a post-pandemic society" (perspectivas para el derecho internacional privado en una sociedad post-pandemia) from 17 to 19 November 2021 for the second time online.
The main focus of the seminar will be to analyse the impact of the Covid-19 pandemic on the development of private international law.
Potential speakers are invited to submit a paper in Spanish, English or Portuguese by September 1st 2021. Papers must comply with the criteria established by AMEDIP and will be evaluated accordingly. Selected speakers will be required to give their presentations preferably in Spanish as there will be no interpretation services but some exceptions may be made by the organisers upon request.
Participation is free of charge. The platform that will be used is Zoom and it will also be streamed via Facebook Live. For more information, please click here.
https://conflictoflaws.net/News/2020/08/CoL_Banner-1.png
0
0
Mayela Celis
https://conflictoflaws.net/News/2020/08/CoL_Banner-1.png
Mayela Celis
2021-06-14 08:13:46
2021-06-14 08:13:46
The annual seminar of the Mexican Academy of Private International and Comparative Law will take place online from 17 to 19 November 2021