Out now: Festschrift for Herbert Kronke on the Occasion of his 70th Birthday: "National, International, Transnational: Harmonischer Dreiklang im Recht"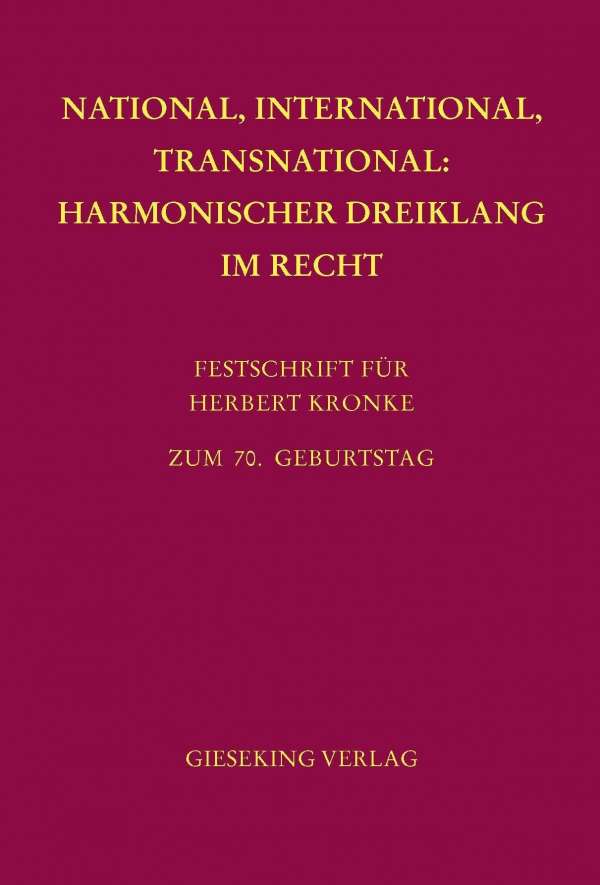 On the occasion of the 70th birthday of Herbert Kronke, Professor emeritus of the University of Heidelberg, President of the German Institution of Arbitration and Arbitrator (Chairman, Chamber Three) at the Iran US Claims Tribunal at The Hague, Former Secretary-General of UNIDROIT, a large number of friends and colleagues gathered to honour a truly outstanding scholar with essays, edited by Christoph Benicke, Professor at the University of Gießen, Germany, and Stefan Huber, Professor at the University of Tübingen, in an impressive volume of nearly 2000 pages with more than 150 contributions from all over the world, many of them in English – highly recommended to browse through state of the art thinking and research on national, international and transnational law:
I. Internationales Privat- und Verfahrensrecht sowie Völkerrecht
Moritz BRINKMANN und Thomas VOGT GEISSE
Qualifikation und Anknüpfung von Instrumenten der prozessvorbereitenden Aufklärung
Eckart BRÖDERMANN
Vom Drachen-steigen-Lassen – Ein internationales Jura-Märchen zum IPR/IZVR
Hannah L. BUXBAUM
Capital Markets and Conflict of Laws: from Mutual Recognition to Substituted Compliance
Dagmar COESTER-WALTJEN
Der gewöhnliche Aufenthalt eines Neugeborenen im Internationalen Familienrecht
Anatol DUTTA
Gleichlauf von forum und ius – ein legitimes Ziel des internationalen Privatrechts?
Dorothee EINSELE
Der Erfüllungsort von Geschäften in Finanzinstrumenten
Omaia ELWAN und Dirk OTTO
Staaten und Staatsunternehmen im internationalen Schieds- und Zivilverfahrensrecht
Cecilia FRESNEDO DE AGUIRRE
Private International Law in Uruguay: Present and Future
Angelika FUCHS
Zum Klägergerichtsstand bei Auslandsunfällen
Horacio A. GRIGERA NAÓN
UNIDROIT Principles as Proper Law
Pascal GROLIMUND und Eva BACHOFNER
Örtlicher Gerichtsstand bei Vereinbarung der internationalen Zuständigkeit
Wolfgang HAU
Der Drittstaatsansässige als "Fremder" im Rahmen der europäischen justiziellen Zusammenarbeit in Zivilsachen
Jan VON HEIN
Kollisionsrechtliche Aspekte neuer Formen des Erwachsenenschutzes
Christian HEINZE
Anforderungen an eine Auslandsklage zur Hemmung der Verjährung nach § 204 Abs. 1 Nr. 1 BGB
Dieter HENRICH
Ehe zu dritt
Stephan HOBE
50 Jahre Mondlandung – 40 Jahre Mondabkommen
Norbert HORN
Abwehr der Haftung für internationale Staatsanleihen durch
gesetzgeberische Selbstbedienung? Eine Nachlese
Cristina HOSS
The times they are a-changin':
Die Immunität internationaler Organisationen im Wandel?
Peter HUBER
Der Cordanzug von Amazon –
Hinweispflichten bei Rechtswahl und Gerichtsstandsvereinbarung
Abbo JUNKER
Die Rück- und Weiterverweisung (Renvoi) nach dem Inkrafttreten der Europäischen Güter- und Erbrechtsverordnungen
Peter KINDLER
Urteilsfreizügigkeit für derogationswidrige Judikate? –
Ein rechtspolitischer Zwischenruf auf dem Hintergrund der 2019 HCCH Judgments Convention

Christian KOHLER
Parteiautonomie, zwingendes Recht und loyale Zusammenarbeit in der EU
Juliane KOKOTT und Wolfgang ROSCH
Eingriffsnormen und ordre public im Lichte der Rom I-VO, der Rom II-VO, der EuGVVO und der EU-InsVO
Vesna LAZI? and Sonja A. KRUISINGA
Prorogation of Jurisdiction:
Validity Requirements and Methods of Interpretation
Stefan LEIBLE und Felix M. WILKE
Funktionale Überlegungen zur kollisionsrechtlichen Wahl nichtstaatlicher Regelwerke
Walter F. LINDACHER
Kautionslastfreistellung nach § 110 Abs. 1 ZPO – Die causa Liechtenstein
Dirk LOOSCHELDERS
Gleichgeschlechtliche Ehen im Internationalen Privat- und Verfahrensrecht
Maria Chiara MALAGUTI
Sovereign Debt Restructuring and Protection of Creditors in the European Union through the Lenses of Most Recent Case Law
Heinz-Peter MANSEL
Zum Anwendungsbereich des Art. 24 Nr. 2 EuGVVO beim verschmelzungsbedingten squeeze out und Drittklagen gegen sachverständige Prüfer
Dieter MARTINY
Private international law aspects of geo-blocking and portability
Felix MAULTZSCH
Forumsfremde Eingriffsnormen im Schuldvertragsrecht
zwischen Macht- und Wertedenken
Francesca MAZZA
Von lachenden Doppelerben und anderen Streithähnen – Für ein neues Selbstverständnis des IPR als Recht der internationalen Integration im privatrechtlichen Bereich
Ralf MICHAELS
A Global Restatement of Private International Law?
José Antonio MORENO RODRÍGUEZ
The new OAS Guide on International Contracts
Peter Arnt NIELSEN
A Global Framework for International Commercial Litigation
Yuko NISHITANI
Kulturelle Identität und Menschenrechte im Internationalen Privatrecht
Luca G. RADICATI DI BROZOLO
Competition between Cross-Border Dispute Settlement Mechanisms: Domestic Courts, Arbitration and International Commercial Courts
– Procedural and Substantive Options for Litigants –
Oliver REMIEN
Drittstaatliche Handelsvertreter und die Richtlinie 86/653 in den Fängen der nationalen selbstbeschränkten Sachnorm und der Eingriffsnormenregelung
des Art. 9 Rom I-VO – Bemerkungen zu EuGH Rs. C-507/15 – AGRO 
Herbert ROTH
Der Gerichtsstand der unerlaubten Handlung nach Art. 7 Nr. 2 EuGVVO und die Bedeutung des Erfolgsorts für den Ersatz reiner Vermögensschäden
Giesela RÜHL
Die Haager Grundregeln über Rechtswahlklauseln in internationalen Handelsverträgen: Ein effizienter Rahmen für den Wettbewerb der Rechtsordnungen im Vertragsrecht?
Haimo SCHACK
Das auf Altersgrenzen anwendbare Recht
Stephan W. SCHILL
Linking Private and Public International Law: the Example of Determining
Corporate Nationality in Germany's Investment Treaty Network
Anja SEIBERT-FOHR
La fonction et le contenu de la dignité humaine en droit international
Dennis SOLOMON
Internationale Entscheidungskollisionen zwischen staatlicher Gerichtsbarkeit und privater Schiedsgerichtsbarkeit
Andreas SPICKHOFF
Gerichtsstände und grenzüberschreitender Autokauf im Internet
Michael STÜRNER
Politische Interessen und Internationales Privatrecht
Karsten THORN und Marian THON
Der Auslandsbezug im IPR
Luboš TICHÝ
Fremdes Recht im Revisionsverfahren (Eine rechtsvergleichende Skizze über die Revisibilität des ausländischen Rechts)
Marc-Philippe WELLER, Jan-Marcus NASSE und Laura NASSE
Klimaklagen gegen Unternehmen im Licht des IPR
Matthias WELLER
The HCCH 2019 Judgments Convention: New Trends in Trust Management?
Volker WIESE
Der kollisionsrechtliche Rahmen für die grenzüberschreitende Verbraucherstreitbeilegung
Joachim ZEKOLL
Die Anerkennungsfähigkeit von Punitive Damages – Bedarf nach einer Neubewertung?
II. Rechtsvergleichung und Rechtsangleichung
Jürgen BASEDOW
Soft Law for Private Relations in the European Union
Spyridon V. BAZINAS
Does the World Need Another Uniform Law on Factoring?
Klaus Peter BERGER
Herbert Kronke und die "Schleichende Kodifizierung" des transnationalen Wirtschaftsrechts
Hans-Georg BOLLWEG
Die Übereinkünfte von Kapstadt: beschlossene und künftige Protokolle – Innenansichten aus deutscher Perspektive –
Michael Joachim BONELL
The New Version of the UNILEX Data Base on the Unidroit Principles and the CISG – Upgraded in Form and Enriched in Content
Richard M. BUXBAUM
Montesquieu and the Cape Town Convention: of Bankruptcy and Civil Procedure
Remo CAPONI
Nuovi strumenti processuali europei di tutela collettiva
Heather CLARK, Barbara CONCOLINO and Ana MORALES RAMOS
The Broader Legacy of the Iran-United States Claims Tribunal
Michel DESCHAMPS
The Impact of the Cape Town Convention on the Assignment of Receivables
Nina DETHLOFF
Vielfalt oder Einheit? Ein Blick auf den Prozess der Angleichung des Familienrechts in den USA
Bénédicte FAUVARQUE-COSSON
Les trois paradoxes des Principes d'Unidroit relatifs aux contrats du commerce international
Marcel FONTAINE
L'harmonisation du droit des contrats dans les pays de l'OHADA :
Souvenirs et Perspectives
Martin GEBAUER
Zu den methodischen Ursprüngen funktionaler Rechtsvergleichung – Sachnorm, Kollisionsnorm und Qualifikation
Stefan J. GEIBEL
La « fiducie-fondation » : une alternative aux fondations à personnalité morale ?
Roy GOODE
Creativity and Transnational Commercial Law: from Karkhemish to Cape Town
Bernd GRZESZICK
Diversity in and by Law – the Example of Federal and State Constitutions
Christian HATTENHAUER
"Das ist Grönländisches Recht, und ein sehr Natürliches!"
Burkhard HESS
Prozessökonomie und Judicial Efficiency – Verfahrensmaximen im Schnittpunkt zwischen nationaler Kodifikation und internationaler Maßstabsbildung –
Stefan HUBER
Überregionale Privatrechtsangleichung: weiches hard law als modernes Erfolgsrezept
Erik JAYME
Giovanni Pieraccini (1918 – Viareggio – 2017) und die Entwicklung des Kunsthandelsrechts
Tatjana JOSIPOVI?
MAC Protocol and Croatian Registered Security Rights in Mining, Agricultural and Construction Equipment
Thomas KEIJSER
Enforcement of Security Interests in Transnational Commercial Law: Balancing Tradition and Innovation
Catherine KESSEDJIAN
Prendre la transnationalité au sérieux
Eva-Maria KIENINGER
Grenzüberschreitende Kreditsicherung an Mobilien 2019: Pretoria, Wien, Brüssel
Caroline KLEINER
Cryptocurrencies as Transnational Currencies?
Jens KLEINSCHMIDT
Einheit und Vielfalt im romanischen Rechtskreis am Beispiel der Vertragsaufhebung
Souichirou KOZUKA
The Cape Town Convention and the "Fitness" to the Context: Considering the Features of Aircraft, Rail and Space Financing
Sebastian KREBBER
Die Verzahnung von mitgliedstaatlichem Recht und punktuellen unionsrechtlichen Vorgaben bei der Angleichung von Arbeitsrecht
innerhalb der europäischen Union
Karl KREUZER
Religiöse Gerichte und religiöses Recht im modernen Staat
Hans KUHN
Zurück zu den Wurzeln: Die privatrechtliche Erfassung von Token im liechtensteinischen und schweizerischen Recht
Matthias LEHMANN
Vom internationalen Kapitalmarktrecht zum globalen Finanzmarktrecht
Thomas LOBINGER
Rechtsdogmatik und Rechtsvergleichung im europäischen Betriebsübergangsrecht
Robert MAGNUS
Rückholansprüche – Eine eigenständige Anspruchskategorie
Ulrich MAGNUS
CISG and Africa
Gerald MÄSCH
One Size Fits All? – Eine Skizze zum Beweismaß im Transnational Commercial Law 
Ewan MCKENDRICK and Stefan VOGENAUER
Supervening Events in Contract Law: Two Cases on the Interaction of National
Contract Laws, International Uniform Law and 'Soft Law' Instruments
Charles W. MOONEY, JR.
Herbert Kronke: The Unidroit Years and Beyond
Peter-Christian MÜLLER-GRAFF
Algorithmen im Kartellrecht
Wolfgang OEHLER
Zu Nutzen und Notwendigkeit eines internationalen Einheitskaufrechts in einem leisen Gelehrtendisput zwischen Ernst Rabel und Hans Großmann-Doerth
Charalambos (Haris) P. PAMBOUKIS
Fragments of Legal Discourse on the Future of Global Law
?aslav PEJOVI?
Development of Carrier by Sea Liability: from Roman Law to the Rotterdam Rules
Andreas PIEKENBROCK
Der (Rück-)Erwerb des Nichtberechtigten – rechtsvergleichende Überlegungen zu einem Klassiker des Sachenrechts
Giuseppe B. PORTALE
Vom Codice Civile des Jahres 1942 zu den (Re)Kodifikationen: Die Suche nach einem neuen Handelsrecht
Teresa RODRÍGUEZ DE LAS HERAS BALLELL
Embracing Technological Disruption in International Transactions: Challenges for Legal Harmonization
Boris SCHINKELS
Fehlerhafte Produkte aus Fernost auf Amazon Marketplace – Für eine Produkthaftung transnationaler Warenhausplattformen als Quasi-Importeur
Kurt SIEHR
Unidroit Übereinkommen von 1995 über gestohlene oder
rechtswidrig ausgeführte Kulturgüter – Europäischer Kulturgüterschutz 25 Jahre nach dem Unidroit Übereinkommen
Rolf STÜRNER
Die Mündlichkeit im Zivilprozess – ein europaweit anerkanntes Verfahrensprinzip mit Zukunft?
Lajos VÉKÁS
Über das europäische Verbrauchervertragsrecht und die Herausforderungen bei der Umsetzung
Wolfgang WIEGAND
Brexit – ein Fall für die clausula rebus sic stantibus?
III. Handelsschiedsgerichtsbarkeit und Investor-Staat-Streitbeilegung
Mir-Hossein ABEDIAN and Reza EFTEKHAR
Invoking the Ground of Public Policy in Refusing the Recognition and Enforcement of an Arbitral Award Embodying the Remedy of Specific Performance
Georges AFFAKI
Arbitration in Banking and Financial Disputes Deconstructed
Rosemary BARKETT
A Call for More Specificity in Proposed Ethical Codes of Conduct Regarding the Submission of False Evidence in International Arbitration
Massimo V. BENEDETTELLI
"Harmonization" vs. "Pluralism" in the 1958 New York Convention: Balancing Party Autonomy with State Sovereignty
George A. BERMANN
The Self-styled "Autonomy" of International Arbitration
Charles N. BROWER
Harmonizing the Way Forward: Herbert Kronke
Giuditta CORDERO-MOSS
Towards Lean Times for Arbitrability?
Nadia DARWAZEH and Sarah LUCAS
From Paris with Love or How the French Courts Fight International Arbitral Awards Tainted by Corruption and Money Laundering
Giorgio DE NOVA
Arbitrato internazionale con sede in Italia e Prague Rules 
Siegfried H. ELSING
The New Approach to ISDS – Improvement or Setback?
Axel FLESSNER
Investitionsschutz und Schiedsrecht – Ein schräges Verhältnis
Daniel GIRSBERGER
Von Chamäleons und Hybriden in der grenzüberschreitenden Bewältigung von Wirtschaftskonflikten
Thomas JOHNSON and Sean COLENSO-SEMPLE
Investment Agreements between Developed Countries: Unintended Consequences and Disenchantment
Athanassios KAISSIS
Awards Set Aside in Their Country of Origin. Two Incompatible Schools of Thought
Christoph A. KERN
The Flight from ISDS
Katharina LUGANI
Das lex fori-Prinzip im Schiedsverfahrensrecht – ein überholter Theorienstreit?
Peter MANKOWSKI
Die Schriftform des Art. II (2) UNÜ und ihr Transfer in die digitale Moderne 1475
Werner MELIS
70 Jahre Internationale Handelsschiedsgerichtsbarkeit
Patricia NACIMIENTO, Dirk OTTO and Nicola PORT
The New York Convention and the Rule of Law: Obligation of the Tribunal to Prevent Surprises for the Parties?
Thomas PFEIFFER
Erstreckung von Schiedsvereinbarungen auf Organwalter von Gesellschaften
Jörg PIRRUNG (†)
EuGH und internationale Investitions(schieds)gerichtsbarkeit
Dorothee RUCKTESCHLER und Tanja STOOSS
Die vorzeitige Beendigung der Schiedsrichtertätigkeit
Jürgen SAMTLEBEN
Internationale Handelsschiedsgerichtsbarkeit in Lateinamerika – Eine Skizze 1529
Maxi SCHERER
Article II(2) of the New York Convention is Dead! Long Live Article II(2)! 1543
Christoph SCHREUER
Pre-Investment Activities
Rolf A. SCHÜTZE
Die Dutco-Entscheidung. Probleme der Schiedsrichterbestellung in Mehrparteienschiedsverfahren
Jamal SEIFI
Globalization of the International Arbitral Process: Trends and Implications
Bruno SIMMA and Jan ORTGIES
Six Considerations before You Begin Interim Measures Proceedings in International Arbitration
David P. STEWART
Sovereignty, Natural Resources, Injunctions, and the Public Policy Exception to the Enforcement of Foreign Arbitral Awards
Chris THOMALE
Rechtsprechung als Öffentliches Gut – Über die gesellschaftlichen Kosten der Schiedsgerichtsbarkeit
Christian TIETJE and Andrej LANG
The (Non-)Applicability of the Monetary Gold Principle in ICSID Arbitration Concerning Matters of EU Law
Rolf TRITTMANN and Nikolaos TSOLAKIDIS
Looking into the Crystal Ball: The Future of Commercial Arbitration and European Union Law
Wolfgang WURMNEST
Die Durchsetzung von Art. 101, 102 AEUV durch Schiedsgerichte: Ein Spannungsfeld
IV. Ausländisches und deutsches Privat- und Wirtschaftsrecht
Necla AKDA? GÜNEY
Ein neues Rechtsinstitut im türkischen Aktienrecht: Die Klage auf Auflösung aus wichtigem Grund
Neil ANDREWS
Contract Law: Interpretation and Breach
Christian BALDUS
Labeo oder Das Geld, die Macht und der Tod
Christoph BENICKE
Haftung des Herstellers für Mangelfolgeschäden im Wege des Händlerregresses
Talia EINHORN
The Israeli Statute on National Book Price Maintenance – A Critical Evaluation
Frédérique FERRAND
L'avenir de la Cour de cassation française : réformer ou révolutionner ?
Holger FLEISCHER und Yannick CHATARD
Zur Reform des französischen Gesellschaftsrechts durch die Loi PACTE: Intérêt social – raison d'être – société à mission
Henry Deeb GABRIEL
From Formalism to Instrumentalism: The Inevitability of the Decline of the Concept of Title in the American Law of Personal Property Security Rights 1735
Attila HARMATHY
Credit
Hideki KANDA
Rethinking Property Rights in the Digital Age
Julia KLAUER
Die Bestellung von Pfandrechten an einen Sicherheitentreuhänder
Edgar MATYSCHOK
Europäischer Know-how-Schutz und deutsche Berufsfreiheit
Salvatore PATTI
Il testamento pubblico della persona anziana «vulnerabile»
Jorge SÁNCHEZ CORDERO
Patrimoine Culturel – Réflexions mexicaines
Uwe H. SCHNEIDER
Ad-hoc-Publizität im Konzern
Klaus-Peter SCHROEDER
Franz Anton Wilhelm Gambsjäger (1752–1816) – Ein Heidelberger Rechtslehrer im Umbruch der Epochen
Markus STOFFELS
Sprachrisiko bei Abschluss von Arbeitsverträgen mit ausländischen Arbeitnehmern
The publisher's website is here.
https://conflictoflaws.net/News/2020/08/CoL_Banner-1.png
0
0
Matthias Weller
https://conflictoflaws.net/News/2020/08/CoL_Banner-1.png
Matthias Weller
2020-08-12 21:35:03
2020-08-13 11:27:41
Out now: Festschrift for Herbert Kronke on the Occasion of his 70th Birthday: "National, International, Transnational: Harmonischer Dreiklang im Recht"