Publication of Michael Bogdan's Hague Lecture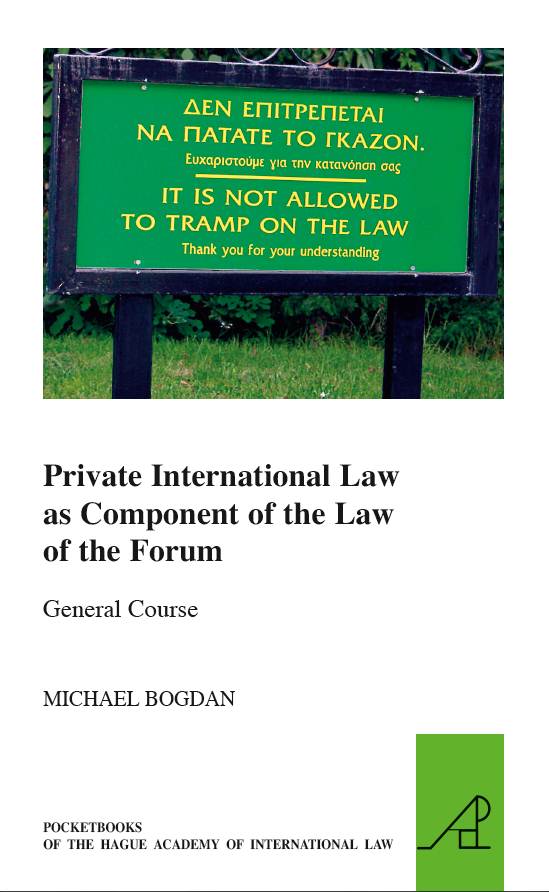 The latest volume in the pocket book serie of the Hague Academy of International Law is the General Course given by Michael Bogdan on Private International Law as Component of the Law of the Forum.
Michael Bogdan is Professor of Comparative and Private International Law in the Law Faculty of the University of Lund. He is member, and former President, of GEDIP (Groupe européen de droit international privé). He is also member of the International Academy of Comparative Law and associated member of the Institut de droit international.

In spite of the undoubtedly great and rising importance of the international legislative co-operation regarding private international law, it must be remembered that no successful unification or harmonization of conflict rules has ever taken place on the universal level, and that the conflict rules stemming from international legislative co-operation between a limited number of countries give rise to the same problems as non-harmonized rules, whenever they have to be used in relation to countries not participating in the legislative co-operation in question. This book will therefore focus on the last-mentioned problems and refrain from dealing with the particular issues arising from international legislative co-operation in the field of private international law. One of the principal aims of Michael Bogdan is to demonstrate the relationship between the national rules of private international law and the rest of the legal system of the forum country, in the first place its substantive private law and its law of civil procedure, as well as to illustrate the impact of the forum country's general ethical and other values on its private international law.
More information on the book can be found here.
https://conflictoflaws.net/News/2020/08/CoL_Banner-1.png
0
0
Gilles Cuniberti
https://conflictoflaws.net/News/2020/08/CoL_Banner-1.png
Gilles Cuniberti
2011-12-28 09:42:48
2011-12-28 09:42:48
Publication of Michael Bogdan's Hague Lecture