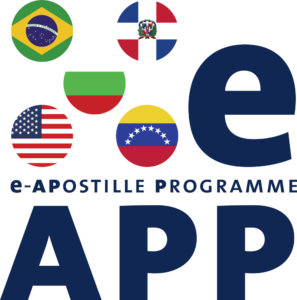 The 1961 Apostille Convention has facilitated the circulation of public documents abroad for almost 60 years. The electronic Apostille Programme (e-APP) has supported the continued operation of the Convention since 2006, facilitating the electronic issuance and verification of millions of Apostilles worldwide. 
The COVID-19 situation may have restricted cross-border mobility, but individuals, families, and companies still need to have their public documents authenticated for use abroad. Current circumstances have seen many authorities and jurisdictions around the world adopt temporary workarounds, with some exploring more permanent legislative and technological solutions. 
The e-APP is no exception. In the last few months alone, Brazil, Bulgaria, the Dominican Republic, Venezuela, and the United States of America have all implemented new components of the e-APP. This is testament to the success of the programme and the continuing relevance of the Apostille Convention. These developments are particularly significant given the work being conducted ahead of the 12th International Forum on the e-APP and the next meeting of the Special Commission on the practical operation of the Apostille Convention, both of which are tentatively scheduled for 2021. 
For more information, see the HCCH News Item, available here.
HCCH Updates are published by the Permanent Bureau of the Hague Conference of Private International Law. 
https://conflictoflaws.net/News/2020/08/CoL_Banner-1.png
0
0
HCCH
https://conflictoflaws.net/News/2020/08/CoL_Banner-1.png
HCCH
2020-08-13 13:14:03
2020-08-13 13:28:38
HCCH Update: COVID-19 and the electronic Apostille Programme (e-APP)