Out Now: Programme of the Hague Academy of International Law's Summer Courses 2024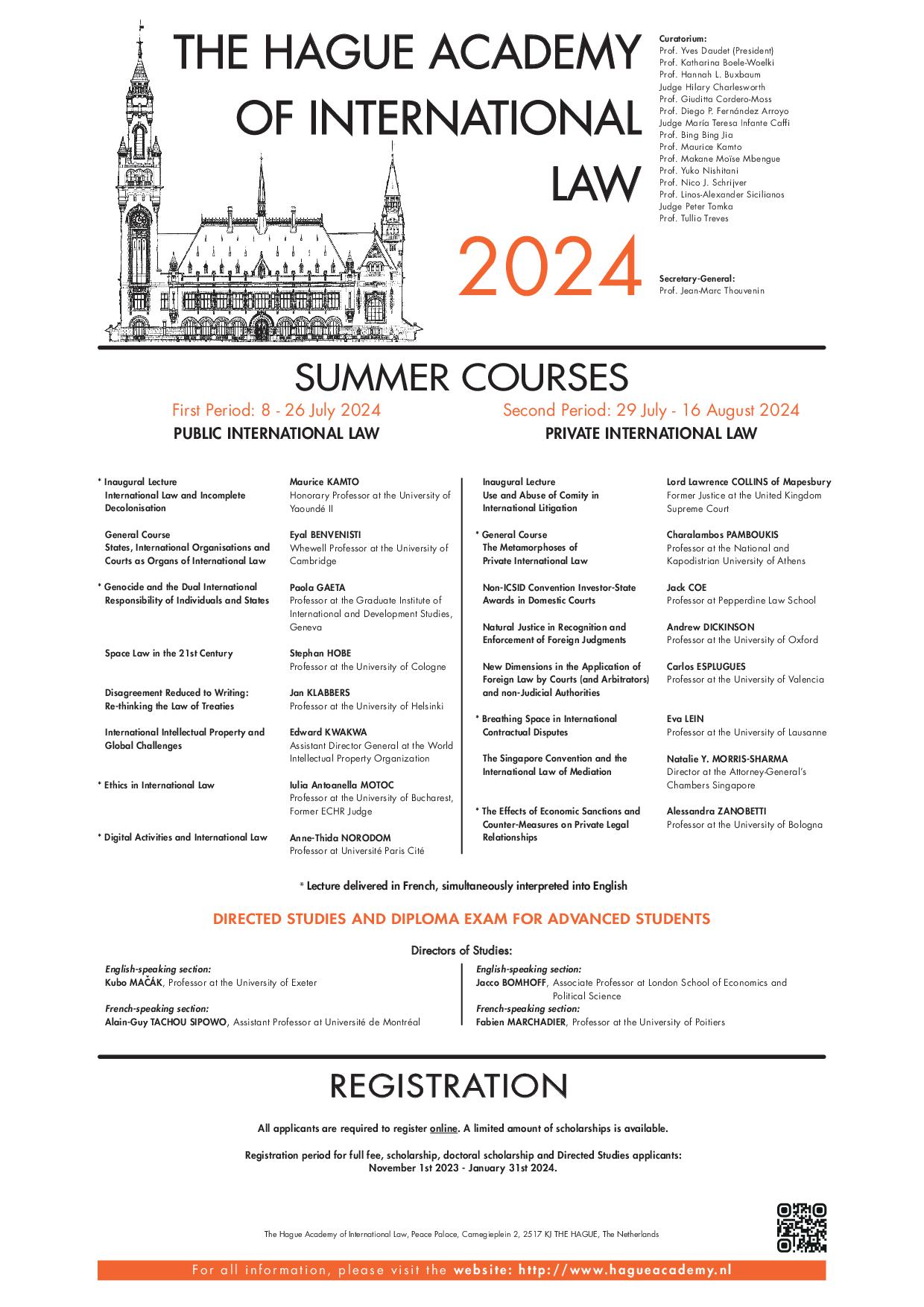 Recently, the Hague Academy of International Law published the 2024 programme of its renowned Summer Courses in Public International Law (8-26 July) and Private International Law (29 July – 16 August).
Following the Inauguaral Lecture by Lord Lawrence (former Justice of the UK Supreme Court), this year's General Course in Private International Law will focus on "The Metamorphoses of Private International Law" and will be delivered by Charalambos Pamboukis (University of Athens).
Furthermore, Special Courses will be offered in English by Jack Coe (Pepperdine Law School), Andrew Dickinson (University of Oxford), Carlos Esplugues (University of Valencia) and Natalie Y. Morris-Sharma (Attorney General's Chambers Singapore), while Eva Lein (University of Lausanne) and Alessandra Zanobetti (University of Bologna) will deliver their presentations in French. As always, all lectures will be simultaneously interpreted into English or French and vice versa.
Advanced Students, especially those who are ambitious to sit for the prestigious Diploma Exam, are highly encouraged to apply for the Academy's Directed Studies as well. The French edition of these interactive afternoon seminars will be directed by Fabien Marchadier (University of Potiers), while English-speaking candidates are taught by Jacco Bomhoff (London School of Economics).
Registration is open from 1 November 2023 to 31 January 2024 via the institution's own Online Registration Form . For further information on the HAIL 2024 Summer Courses and the Academy in general, please consult the HAIL Homepage or refer to the attached PDF Programme.
https://conflictoflaws.net/News/2020/08/CoL_Banner-1.png
0
0
Matthias Weller
https://conflictoflaws.net/News/2020/08/CoL_Banner-1.png
Matthias Weller
2023-10-19 17:34:25
2023-10-20 11:39:07
Out Now: Programme of the Hague Academy of International Law's Summer Courses 2024