Webinar on the HCCH 2019 Judgments Convention
Join us on Friday, 8 October 2021 for the HCCH webinar "Birth of an International Treaty: The 2019 Judgments Convention"! 
In this lecture, the HCCH will take you behind the scenes of the negotiation of its newest treaty. Adopted in July 2019, the Judgments Convention establishes a common framework for the global circulation of judgments in civil or commercial matters, overcoming the complexities arising from differences in legal systems. Once it enters into force, it will increase legal certainty and predictability, essential elements for international trade and business. 
Join us to discover how the Judgments Convention was negotiated and adopted!  
More information, including the registration form, is available here.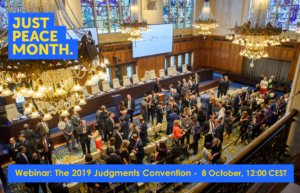 https://conflictoflaws.net/News/2020/08/CoL_Banner-1.png
0
0
HCCH
https://conflictoflaws.net/News/2020/08/CoL_Banner-1.png
HCCH
2021-09-28 09:01:54
2021-09-28 09:01:54
Webinar on the HCCH 2019 Judgments Convention