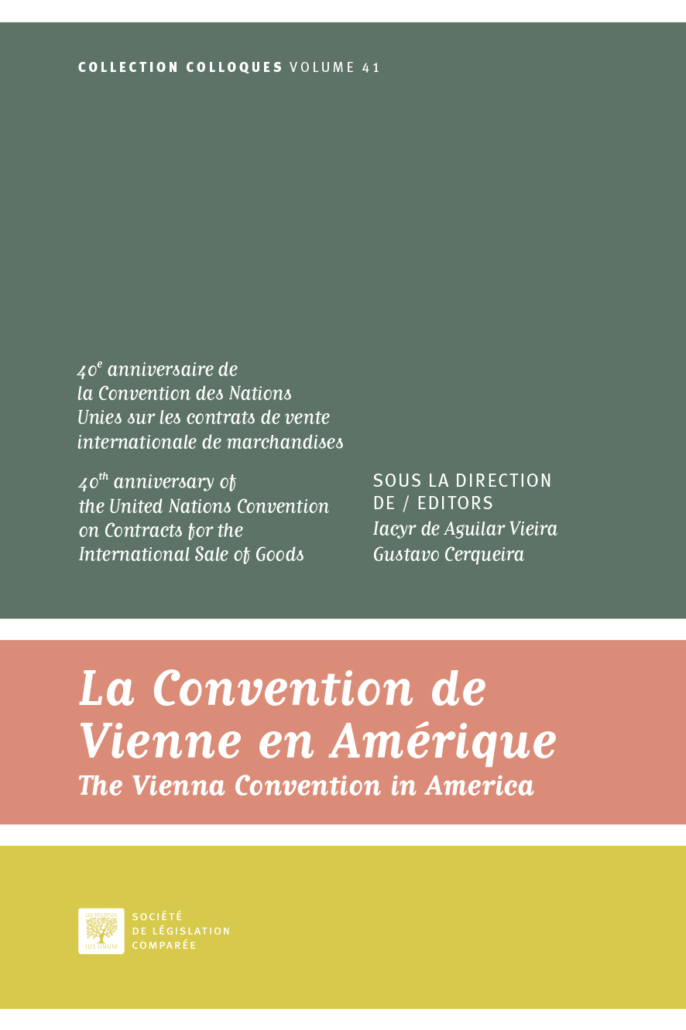 Iacyr de Aguilar Vieira, Gustavo Cerqueira (Eds.), The Vienna Convention in America. 40th anniversary of the United Nation Convention on Contracts for the International Sale of Goods / La Convention de Vienne en Amérique. 40eanniversaire de la Convention des Nations Unies sur les contrats de vente internationale des marchandises, Paris : Société de législation comparée, 2020, 408 p. (available in hard copy and e-book)
To celebrate the 40th anniversary of the Vienna Convention on Contracts for the International Sale of Goods, the Latin American section of the Société de législation comparée has published this book to present the Convention's current state of application in different American countries, as well as to evaluate its influence on domestic sales laws.
This book seeks to provide a better understanding of how the Convention is being applied in American countries and by doing so, supports the efforts towards its uniform application. Concerning the more specifics private international law issues, the numerous analyses relating to the applicability of the Convention and to the subsidiary application of national law offer very interesting insights into the conflict of laws systems of Contracting States in this part of the world. A comparative approach concludes the volume.
This book offers the perfect opportunity to compare the Vienna Convention's implementation in American States and to benefit from the view of American scholars on this universal instrument for the uniformization of sales of goods.
Among the contributors are Maria Blanca Noodt Taquela, Alejandro Garro, Franco Ferrari, Lauro Gama Jr., Jose Antonio Moreno Rodríguez, Cecilia Fresnedo de Aguirre, Ana Elizabeth Villalta Vizcarra and Claudia Madrid Martínez.
This publication is meant for both scholars and lawyers in the field of international trade.
https://conflictoflaws.net/News/2020/08/CoL_Banner-1.png
0
0
Mayela Celis
https://conflictoflaws.net/News/2020/08/CoL_Banner-1.png
Mayela Celis
2021-01-12 08:52:49
2021-01-12 10:36:27
Book published: The Vienna Convention in America