Out now: Fabrizio Marrella / Nicola Soldati (eds.), "Arbitration, Contracts and International Trade Law / Arbitrato, contratti e diritto del commercio internazionale. Essays in honor of Giorgio Bernini/ Studi in onore di Giorgio Bernini", Milan, Giuffré – Francis Lefebvre, 2021.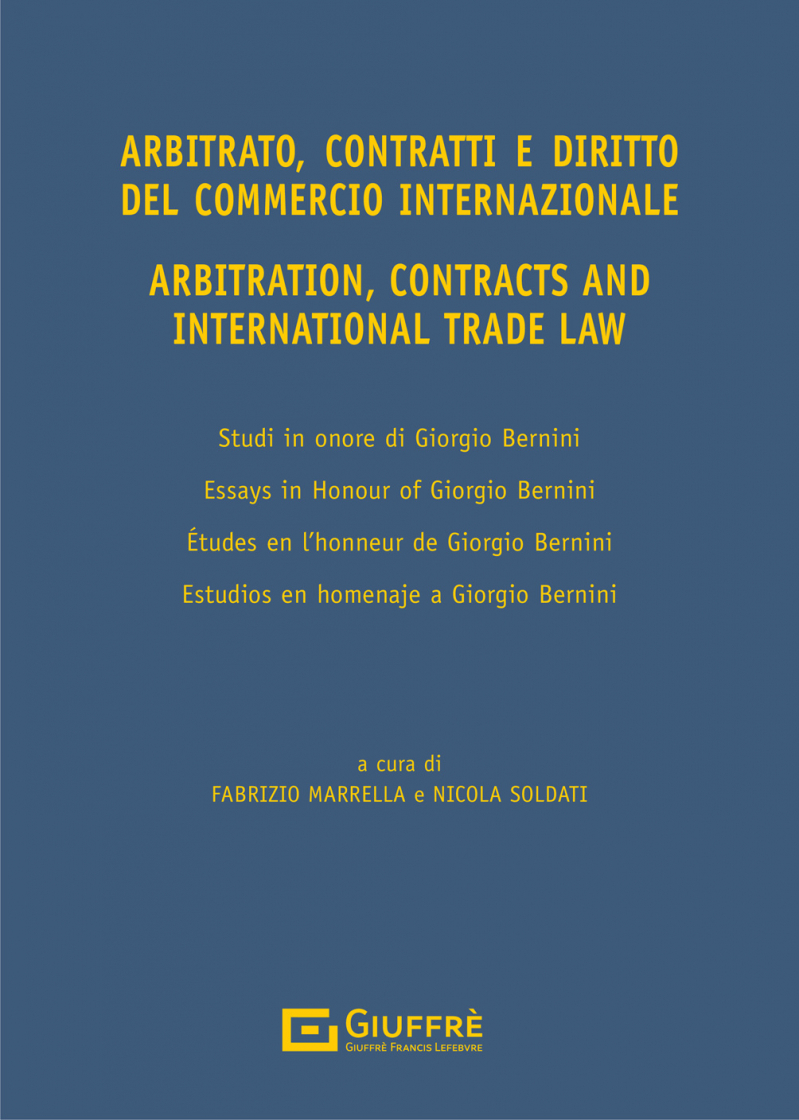 This book celebrates the work and scholarship of Professor Giorgio Bernini, Honorary President of ICCA, who held the chair of European Union Law, Arbitration and International Commercial Law at the University of Bologna for almost 30 years. A very successful international lawyer, he was the Italian Minister of Foreign Trade and a Member of the Italian Antitrust Authority. Bernini has built a long career in the study and practice of arbitration with a record of 450 cases. The book is divided into an introduction and two parts, to highlight many of Bernini's contributions to the Law.
In a special introductory section of the book, entitled 'portraits of a pioneer', some authors offer specific references to some of his many activities in the field: from the ICC Institute of World Business Law to the International Council for Commercial Arbitration, from the Italian Arbitration Association to his professional life as an international lawyer. Then, in the first part of the book, essays on Contract Law and International Trade Law have been collected. The second part is dedicated to arbitration in its many dimensions: domestic, international, commercial and investment Law.
The contributors are amongst the most highly qualified publicists of the various Nations, with the highest academic credentials and proven experience in the field: Yves Derains, Lise Bosman, Maria Beatrice Deli, Antonio Fraticelli, Guido Alpa, Alfonso-Luis Calvo Caravaca, Javier Carrascosa González, Roberto Ceccon, Gabriele Crespi Reghizzi, Abdel Hamid El Ahdab, H. Ercüment Erdem, Marcel Fontaine, Roy Goode, Kaj Hober, Ernst-Ulrich Petersmann, Fausto Pocar, Stefano Azzali, Ronald A. Brand, Sergio M. Carbone, Dominique Carreau, Claudio Consolo, Giorgio De Nova, Donald Francis Donovan, Romain Zamour, Ugo Draetta, José Carlos Fernandez Rozas, Emmanuel Gaillard, Maria Chiara Malaguti, Eleonora Finazzi Agrò, Fabrizio Marrella, Margaret L. Moses, William W. Park, Hassan Rahdi, Christoph Schreuer, Nicola Soldati, Shengchang Wang.
For further information please visit here: