Massimo V. Benedettelli, International Arbitration in Italy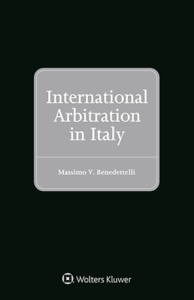 Arbitration community lacked a comprehensive guide in English to move through the multiple and multifaceted connections between arbitration and the Italian legal system: International Arbitration in Italy fills in this gap, addressing both international commercial and investment arbitration.
The book deeply depicts said connections, raising interpretative problems and providing solutions with the view to building a coherent system against the backdrop of the author's thought about the phenomenon of the arbitration taken as a whole.
This approach qualifies the entire analysis elaborated on in 12 Chapters, which start with the focus on what international arbitration is and what its grounds are, then moving on how arbitration "dialogues" with the different sources of Italian law, and what the principles for the right interpretation of this law are.
The book proceeds on "traditional" topics pertaining to a handbook of international commercial arbitration (the interplay between arbitration and national courts, the arbitration agreement, the arbitral tribunal, the arbitral proceedings, the provisional measures, the law applicable to the merits, the costs of arbitration, the different awards, related challenges, recognition and enforcement) with a closing attention to investment arbitration.
International Arbitration in Italy also includes three useful appendices which gather the main provisions of Italian law on arbitration (1), the rules of arbitration of the Milan Chamber of Arbitration (2) and the list of the Bilateral Investment Treaties in force for Italy (3).
Given its well-balanced theoretical and practical approach, the book will stimulate the scientific debate while helping practitioners to handle even the trickiest cases featuring interactions between international arbitration and Italian law.