The latest issue of TDM is
now available
. This special issue on Corruption and Arbitration analyzes new trends and challenges regarding the intersection between allegations of corruption and decisions by arbitral tribunals regarding jurisdiction, admissibility and the merits of commercial and investment disputes. As any transnational practitioners will know, allegations of corruption abroad pervade both arbitral and litigation practices--whether its affirmative claims of corruption before investor-state tribunals, or the enforcement of foreign judgments before national courts. This issue is an important contribution to the field. The articles included in this issue are: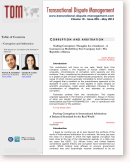 *
Nailing Corruption: Thoughts for a Gardener - A Comment on World Duty Free Company Ltd v The Republic of Kenya
by S. Nappert, 3 Verulam Buildings *
Proving Corruption in International Arbitration: A Balanced Standard for the Real World
by C. Partasides, Freshfields *
Corruption in International Arbitration and Problems with Standard of Proof: Baseless Allegations or Prima Facie Evidence?
by S. Wilske, Gleiss Lutz Rechtsanw?lte T.J. Fox, Gleiss Lutz Rechtsanw?lte *
Random Reflections on the Bar, Corruption and the Practice of Law
by F.P. Feliciano, SyCip Salazar Hernandez & Gatmaitan (SyCipLaw) *
Fraud and Corruption in International Arbitration
by C.B. Lamm, White & Case LLP H.T. Pham, White & Case LLP R. Moloo, Freshfields Bruckhaus Deringer LLP *
Unlawful or Bad Faith Conduct as a Bar to Claims in Investment Arbitration
by A. Cohen Smutny, White & Case LLP P. Polášek, White & Case LLP *
Suspicion of Corruption in Arbitration: A German Perspective
by M.S. Rieder, Shearman & Sterling A. Schoenemann, Shearman & Sterling *
The Potential for Arbitrators to Refer Suspicions of Corruption to Domestic Authorities
by K.S. Gans, DLA Piper LLP D.M. Bigge, US Department of State, Office of the Legal Advisor *
The Courses of Action Available to International Arbitrators to Address Issues of Bribery and Corruption
by A. Crivellaro, Bonelli Erede Pappalardo *
Enforcing Anti-Corruption Measures Through International Investment Arbitration
by S. Kulkarni *
State Responsibility for Corruption: The Attribution Asymmetry in International Investment Arbitration
by A.P. Llamzon, Permanent Court of Arbitration *
The Legal Consequences of Investor Corruption in Investor-State Disputes: How Should the System Proceed?
by T. Sinlapapiromsuk, Faculty of Law, Chulalongkorn University *
The Judicial Scrutiny of Arbitral Awards in Setting Aside and Enforcement Proceedings Involving Issues of Corruption
by M. Hwang, Michael Hwang S.C. K. Lim, Michael Hwang Chambers *
West Africa: The Actions of the OHADA Arbitral Tribunal in the Face of Corruption
by C.N. Nana, London Metropolitan University *
Host-State Counterclaims: A Remedy for Fraud or Corruption in Investment-Treaty Arbitration?
by S. Dudas, Leaua & Asociatii N. Tsolakidis, Johann Wolfgang Goethe-University *
Commercial Arbitration and Corrupt Practices: Should Arbitrators Be Bound By A Duty to Report Corrupt Practices?
by S. Nadeau-Séguin, Baker Botts LLP *
On the Divide Between Investor-State Arbitration and the Global Fight Against Corruption
by D. Litwin, McGill University, Faculty of Law *
International Commercial Arbitration and Corruption: The Role and Duties of the Arbitrator
by C.A.S. Nasarre, McGill University, Faculty of Law *
Legal Consequences of Corruption in International Investment Arbitration: An Old Challenge With New Answers
by R.H. Kreindler, Shearman & Sterling LLP